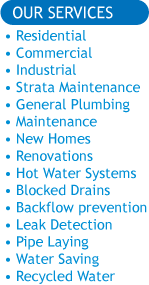 About us
Elm Plumbing Services is owned and operated by Tim Brennan who established his business 27 years ago.
Tim is a fully licensed and insured plumber who heads a team of equally qualified tradesmen.
Their motto is to "do it right or not at all" and it's this approach to all jobs that underpins the success of the business. From the outset you will be impressed by their attitude. Regardless of the size of the job, they will tackle it in the most professional and efficient way ensuring costs are kept as low as possible.
This is what experience buys. We have seen and done most things in the industry and so nothing surprises us. We are prepared at all times and make sure we know about any industry and legislative changes so all the work we do always complies with Australian Standards.
For more about our services click here.
We always strive to be punctual and will keep you informed if unexpectedly delayed.
We also promise to treat your home or workplace with the utmost respect and will tidy our mess before we leave. When only the best will do you've come to the right place.

To speak with Tim directly call M: 0418 281 225.
If you would like to send an email click on this link.